[ad_1]

Last year was my first time in Utah. I spent some time in Salt Lake City for a conference and then made my way down to Moab and Canyonlands for our annual Fit Foodie retreat. After just a couple of days in this great state, I knew I needed to come back this winter to ski because I am officially in love with Utah (minus the weird liquor laws).
This year my family decided not to do Christmas presents (for the most part) and hit the slopes in Park City instead! Honestly, I'd take an experience gift over a material gift any day. Big shout out to Kay and Neil (my parents), Michelle and Ben, Marky, Clay, Matt, and Paul for making this weekend extraordinary. Plus, none of us got in a fight! #familywin Oh, and how could I forget Sam and Jake who drove down from Boise to spend the weekend with us. It was so great to see these two old friends and their little Enzo!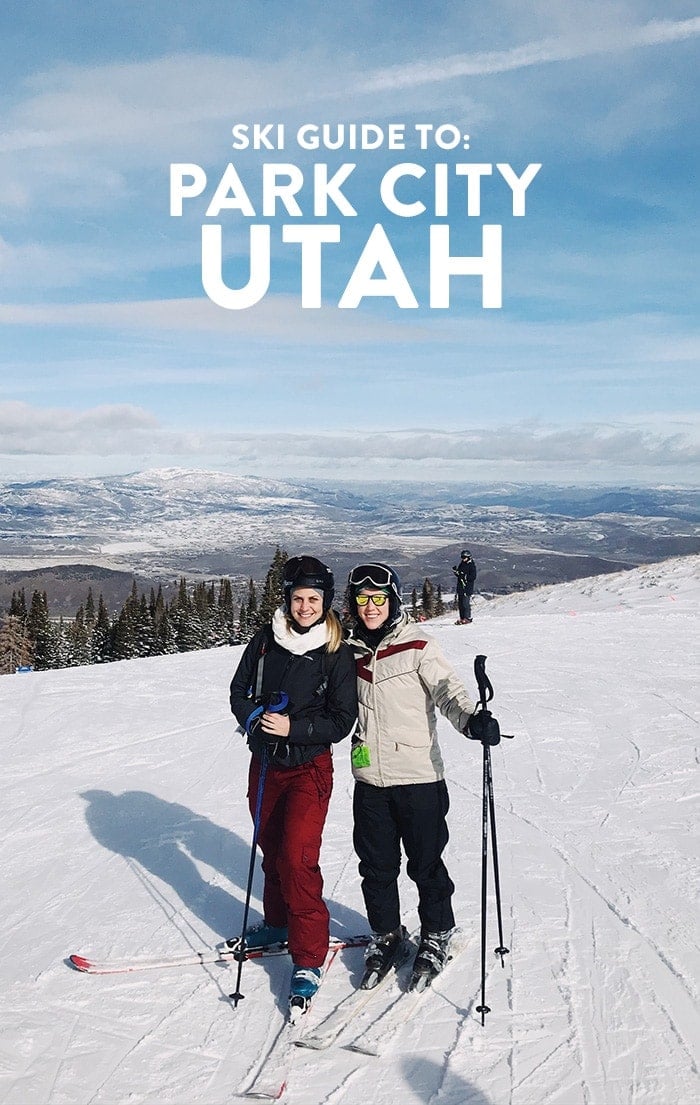 What a weird winter we are having in The States. I couldn't believe how warm it was in Park City! It was like 42ºF at the basin the entire weekend. People, that is nuts! There also wasn't a ton of snow, and lots of runs were closed because of this.
Where We Stayed
We stayed in an amazing Air BnB just outside of downtown Park City. The more I use Air BnB and VRBO, the more I love it. The condo had 4 bedrooms and 4 baths and was perfect for what we needed. While it wasn't skiing on, we had an amazing view of the slopes right outside our window. There was a handy bus system that picked up skiers and dropped them off right on the slopes that we didn't end up utilizing, but was an option. I love love love the amount of light this place got and that it had so many beds! You can never have too many beds on a family vacation ?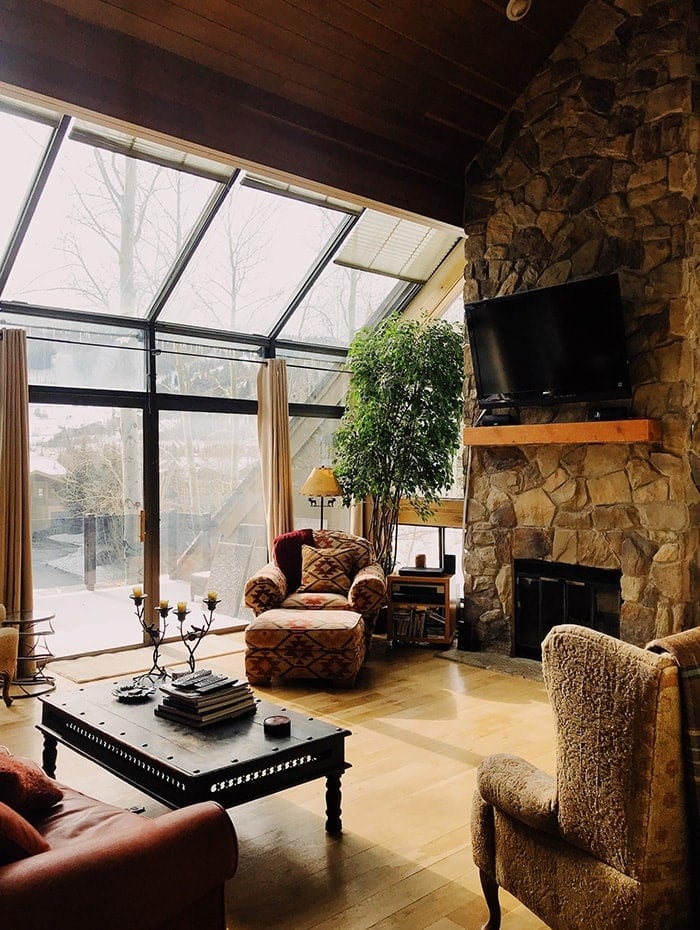 What We Ate
In-Home Meals
Becuase you can easily rack up the restaurant bill in vacation towns, we made a point to make our own food for the majority of the meals we ate. There are a handful of accessible grocery stores in Park City, so after arrival, we immediately popped over to one and stocked up. As head chef of the weekend, I did some preliminary meal planning for a few main dinners and breakfasts. We also got lots of staples like eggs, oats, peanut butter, sandwich fixings, tons of snacks, beer, hard alcohol, and La Croix. Here's what was on my list: PS: we had to feed 9-12 people depending on the night ?
Fajita Bar: Surprisingly I don't have a classic fajita recipe on FFF, but this is always one of my go-to's for feeding the masses! We did both beef and chicken and served it on tortillas with Spanish rice (from a box), Greek yogurt, salsa, and avocado.
Chili Baked Potato Boats: They don't call me spud for no reason. Chili baked potato boats are the most legit dinner to eat post-skiing. Because we were serving 9, I had to make a double batch of chili. It was similar to THIS one, but with beef.
Overnight French Toast Bake: My brother announced this was his favorite Fit Foodie recipe, so OBVIII I'm going to be the best sister ever and make it for the fam. 9 pieces for 9 of us. Probably should have made a double batch!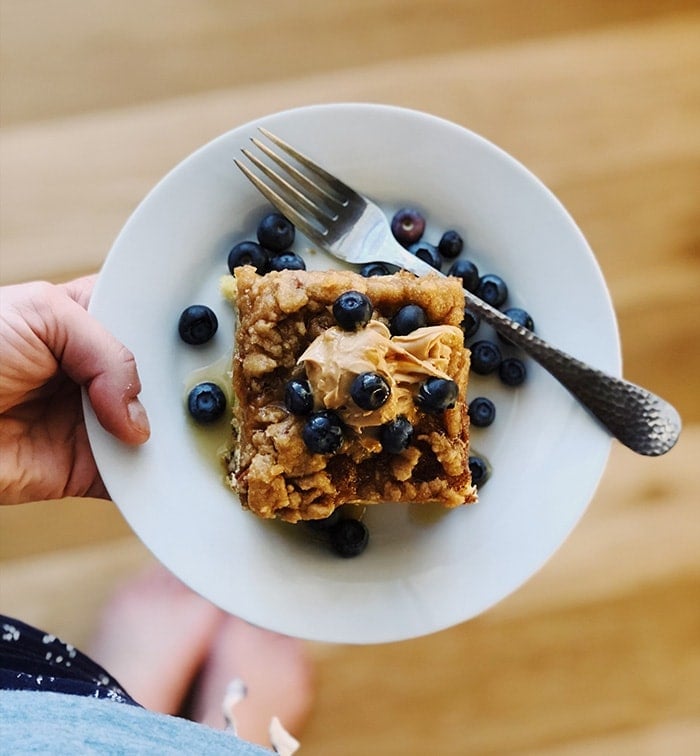 Restaurants/Bars
We didn't make it to as many bars and restaurants as I would have hoped! TBH, everything was v expensive and overpriced in Park City. However, everything we did have was top notch.
High West Distillery: This came highly recommended by Fit Foodie readers and I'm so glad we made a point to go here! They have amazing whiskeys and a fantastic menu. It's a great place to hit right off the slopes in town.
501 on Main: I came here for a drink and apps with my friends Sam and Jake. Everything we had was really great. And guess what? They even had avocado toast on the menu! I highly suggest for a spot after the slopes.
Squatters: Talk about a delicious apricot ale. DANG, I could drink it every day! If you like beer, go here! Their menu isn't half bad either. Beware- their buffalo wings are super HOT.
Miner's Camp: We hit this bar for drinks on both days when we downhill skied. The beers were WAY overpriced, but WAY necessary. Plus the beer I drank was called a Hooker Blonde Ale. I don't recommend eating here because it's just too expensive, but definitely splurge for a local beer!
What We Skied 
I finally decided to buy myself some cross-country skis. What I should have done was buy both CC skies and downhill skis, but I'm going to wait until this summer to pull the trigger. I've downhill skied every year since I was like 7  so don't ask me why I haven't made the investment! Anyways, we did both which is really awesome!
The first two days we hit Park City Mountain. Mark and some of my brother's friends had Epic Passes, which was great because they worked at Park City Mountain. Because I'm a nut bag, I waited until the last minute to buy my ski passes, which means the price kept going up and up. Lucky for me, I used one of Mark's buddy passes from his Epic Pass to get me a deal! I ended up renting skis from Utah Ski and Golf right off Main St., which worked perfectly. The crew hit mostly blues and some greens. I am the type of downhill skier that's slow and controlled. I can ski hard runs, but I'm definitely more cautious. My one stipulation was no moguls and no trees. While we didn't do any crazy tree runs, we did end up doing one mogul run and that was my only fall of the weekend. I almost forgot to mention, I'm also like a 4-hour skier. I love skiing for the first part of the day and then chilling at home editing photos or cooking for everyone! Lastly, I wanted to mention the ski conditions on Park City Mountain. For someone coming from the flatlands of Minnesota, they were great! For someone local, there wasn't very much snow, so the pow wasn't fresh.
The third day, we headed to Solitude to cross-country ski with my sister and sister boy (anyone?!?!)! This meant we had to go back through Salt Lake and up again because the pass was closed. We grabbed day passes at the Solitude Nordic Center and off we went! Not going to lie, Nordic skiing at high altitude is hard as hell. Plus, Ben and Shell immediately took us to blues (we're talking hills, hills, and more hills). Did I mention that Mark and I JUST learned how to skate ski? I've been a long-time classic skier which is much different than skating and Mark legit just learned. LOL. We almost died because the trail conditions weren't the best (lack of snow) and we didn't put two and two together that 40 minutes of downhill cross-country skiing meant like an hour and a half of up hills to get back. I do want to note that this CC-ski experience made me a better person and a better skier, and that's all I ask for ? I wish we could have CC-skied one more day because one wasn't enough!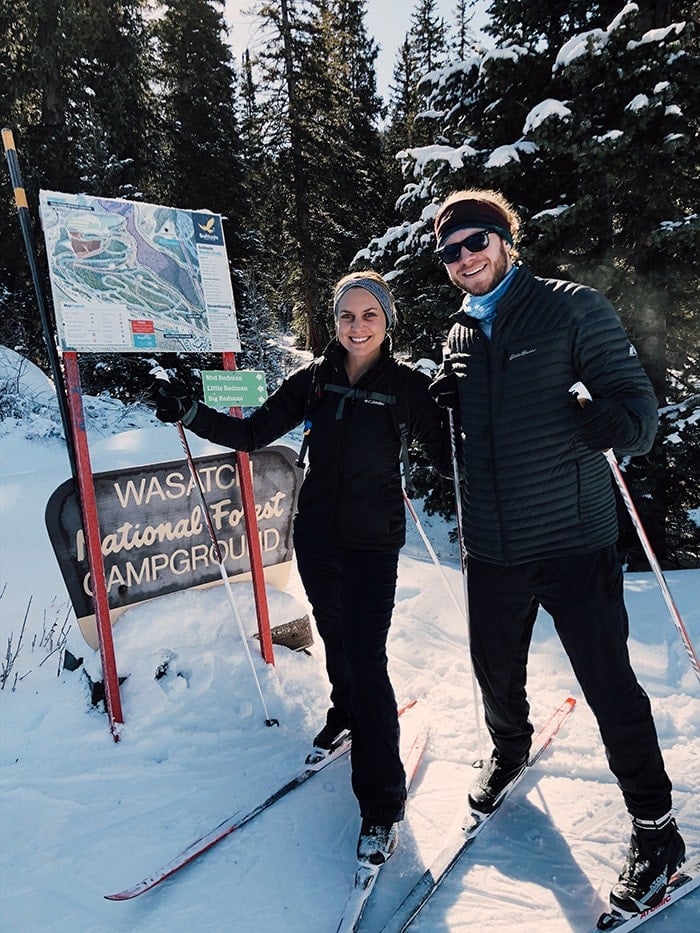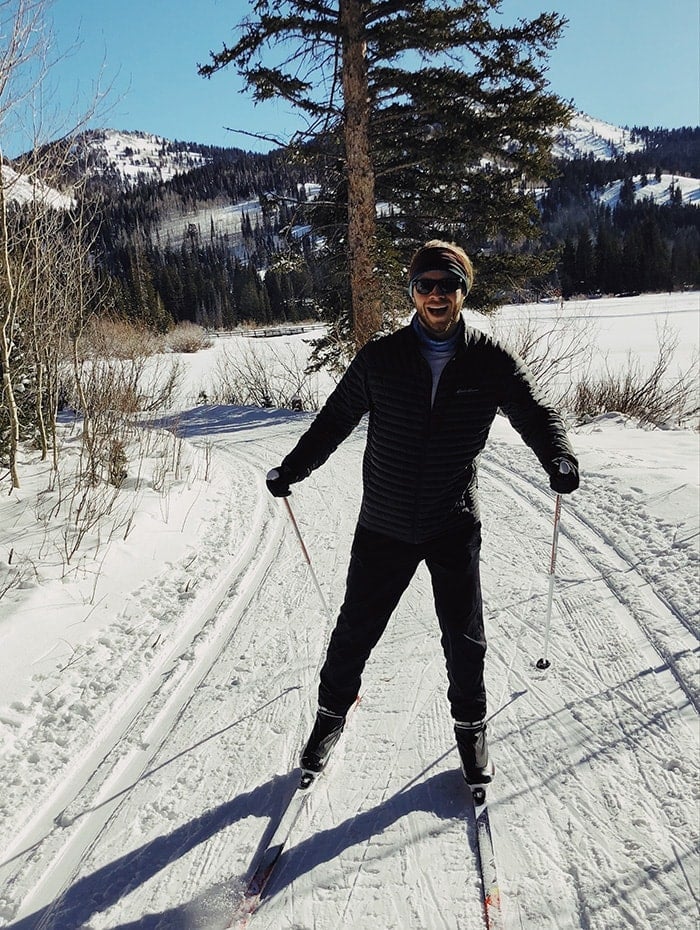 The best part of this trip was spending quality time with quality people. I haven't seen my babes Sam and her husband Jake since their wedding 2 years ago. I met Sam in college and we see each other legit every other year so it was so great to meet their newest member, Enzo! I also loved playing drinking games with my fam and not setting an alarm! We spent some time with my dad's cousins Ben and Hillary who retired in Park City and they gave us a bunch of insider tips, which was very helpful! All in all here are some takeaways–
Takeaways and Tips
Rent a car- Having a car will make your life a lot easier. We had 10 people in our group and 1 car, so we did end up having to utilize Uber, which was fine. Having a car will allow you to pop over to the grocery store and not have to worry about Uber surge prices to and from the airport (we saw prices range anywhere from $50 to $125).
Uber Ski- This was a really cool offering in the SLC and PC areas. If you're bringing your own skis and not renting a car, no fear, Uber Ski is an option.
Buy your lift ticket in advance. It will save you mucho dinero and prevent you from having to wait in long lines.
Go to the grocery store! You will save so much money if you do a little meal planning, especially during the day while skiing!
Always know that it's 10 degrees colder on the top of the mountain, so pack accordingly!
Beware that a lot of the beer is 3.2 percent AND you can't buy alcohol on Sundays.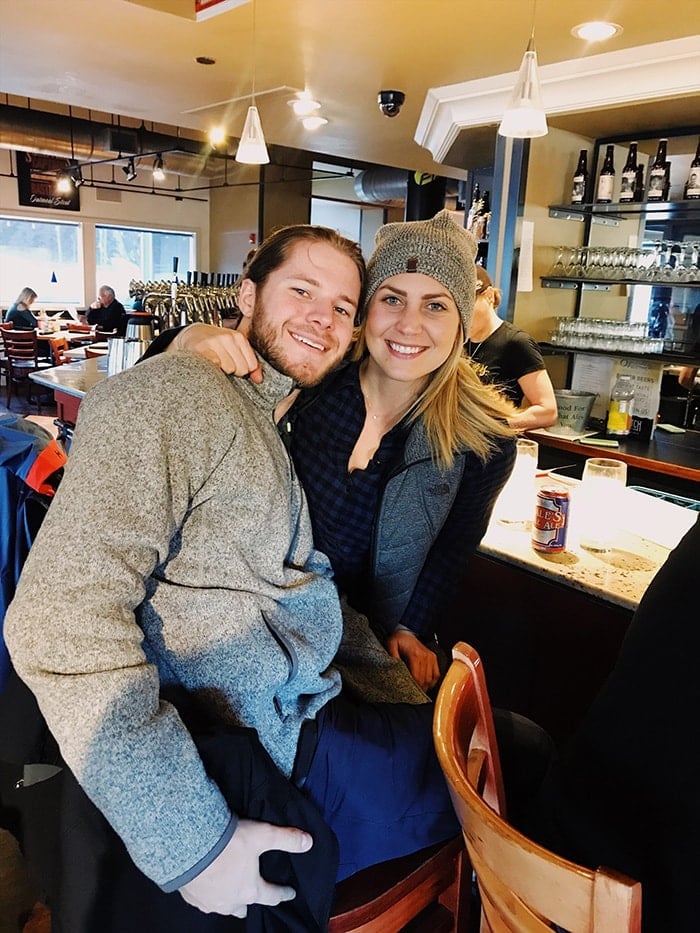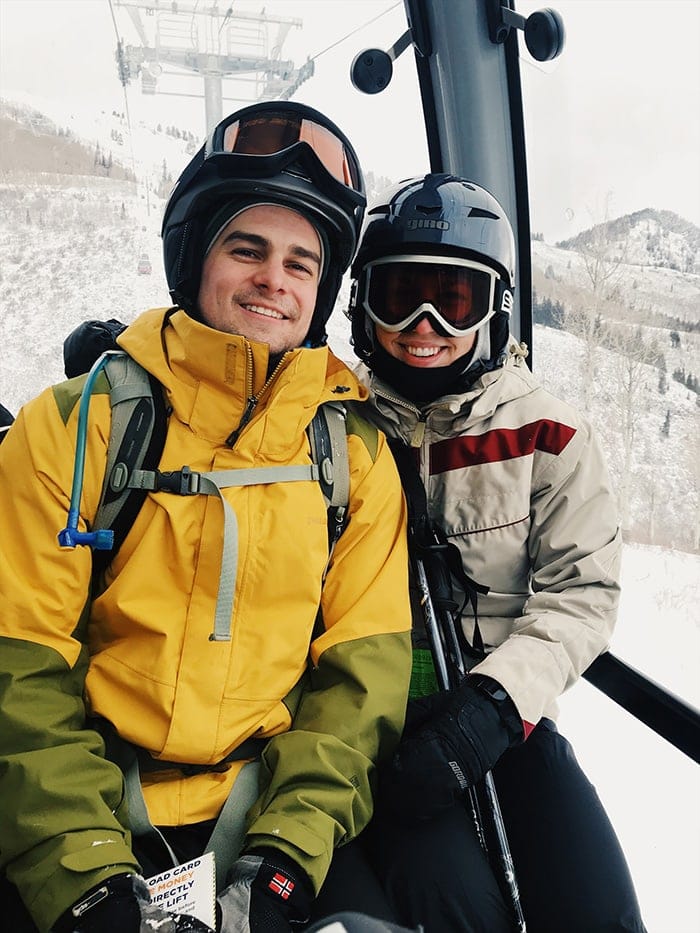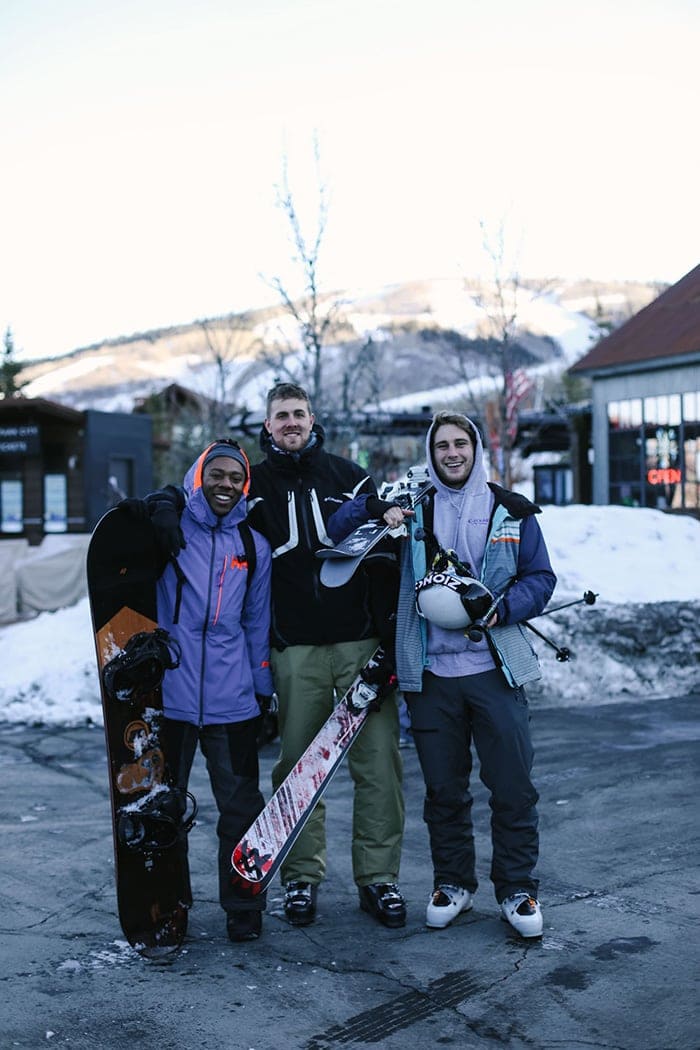 Whew! That was a long one. I'd love to know if you've been to Park City, Utah and what you loved about it!


[ad_2]