[ad_1]

Hello friends, it's Linley here. I have been giddy about this post going live all week! I get to tell you all about my most recent adventure to—-> NICARAGUA. I've been back home for almost two weeks now and I still dream about my time there. It's hard to know where to start. I feel like I could write multiple posts on everything we did. So, I will try my best not to babble and try to consolidate all of my most favorite things for all of you.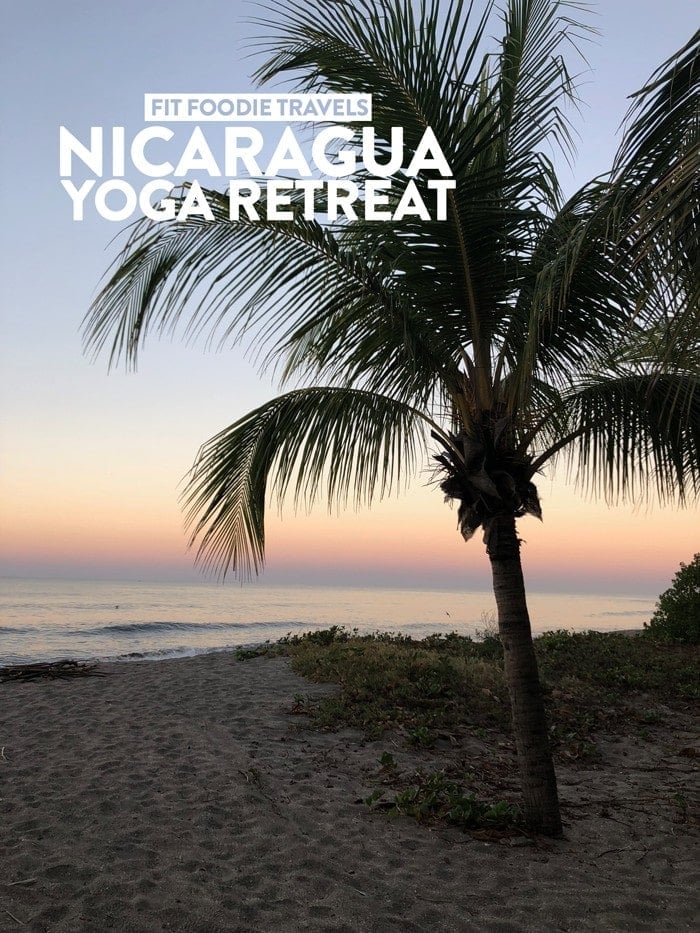 First things first, travel is my first love. My parents traveled a lot when I was young and I was introduced to international travel in 7th grade when my guncles took my brother and I to Hong Kong. Since then, I've never looked back. I've jumped on every opportunity to get on a plane and I have never regretted one single experience. I love exploring, learning, not having a plan, and just being. I am SO fortunate that I have such an accommodating job and work with people that also value travel. I recognize what an amazing gift it is to be able to leave my laptop at home and just breathe for a couple weeks. #teamfitfoodie
Now, all about the trip. My guncles own a yoga studio in South Minneapolis called TaraNa Yoga (it's the best yoga in the city and you should check it out) and during one of the classes, they announced that they were heading to Nicaragua on a yoga retreat. I knew that moment that I had to go. I immediately reached out to two of my besties and we were locked in. TaraNa (who has an IG, btw) has been hosting yoga retreats in Italy for the past couple years, but this was the first time that my budget lined up with timing and I am so glad that it did.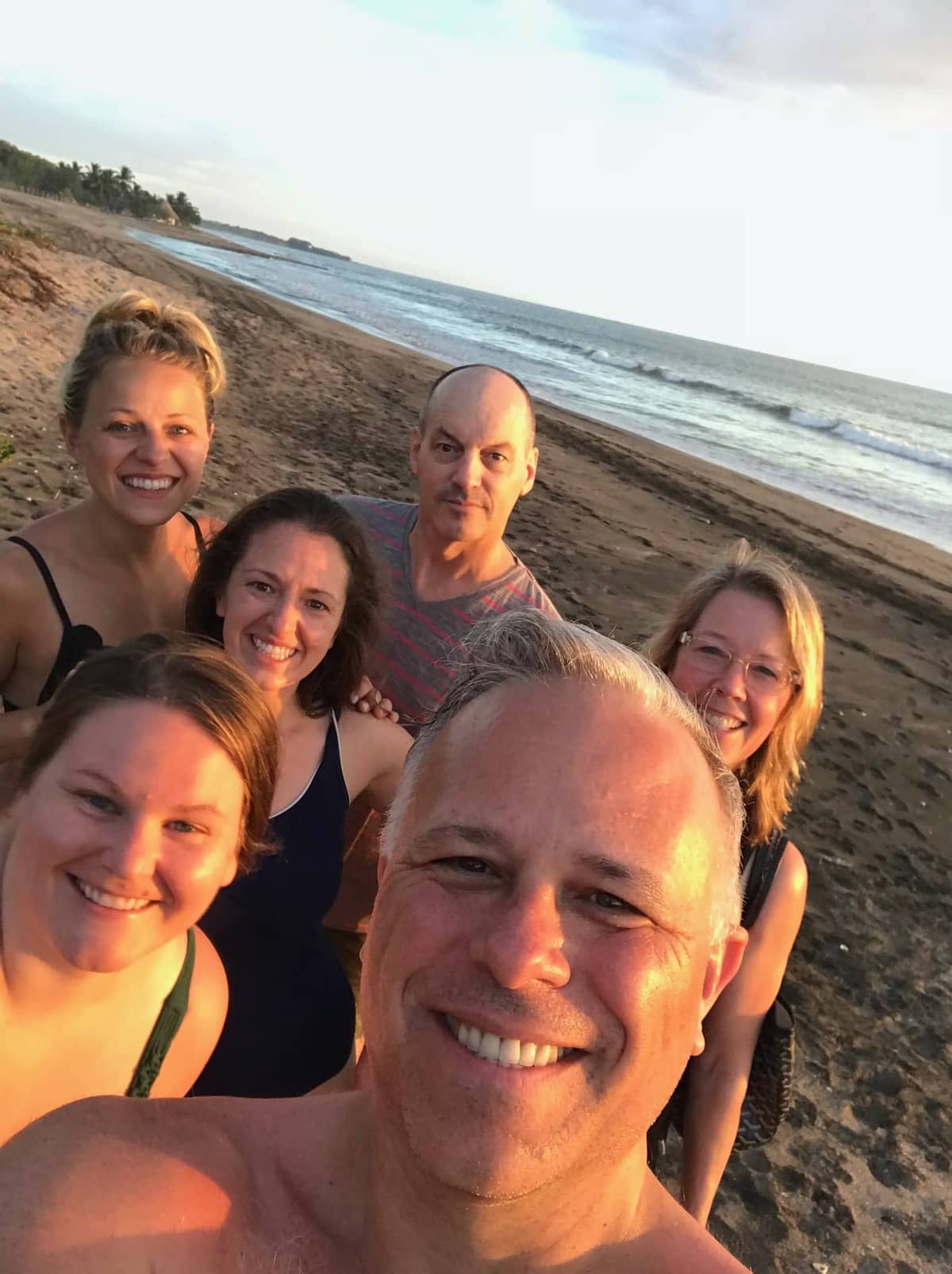 The yoga retreat itself was seven days long in El Viejo Chinandega, which is a small beach town. A small group of us decided that if we were heading to Nicaragua anyway, we should explore as much as we can. Luckily, our group was made up of my guncles (who are the ultimate travelers), Randy (who was the other yoga instructor for our trip), and the three of us ladies. Luckily, Randy had been to Nicaragua before and said Granada was a MUST. I have to say up front, other than a little research on activities to do in Granada, I did absolutely none of the planning for this trip. It was a dream. I am usually the itinerary maker, so it was a new experience to just show up.
I want to fill you in on both parts of the trip and I'm doing it a little backward! I'm going to chat about the yoga retreat portion of our trip first and Granada second, just an FYI.
El Viejo Chinandega, Nicaragua
I had no idea I needed a yoga retreat until I went on this trip. You guys, if any of you have ever been on a yoga retreat before, then you know what I'm talking about. TaraNa hosted the yoga retreat at Coco Loco Eco-Resort in Nicaragua.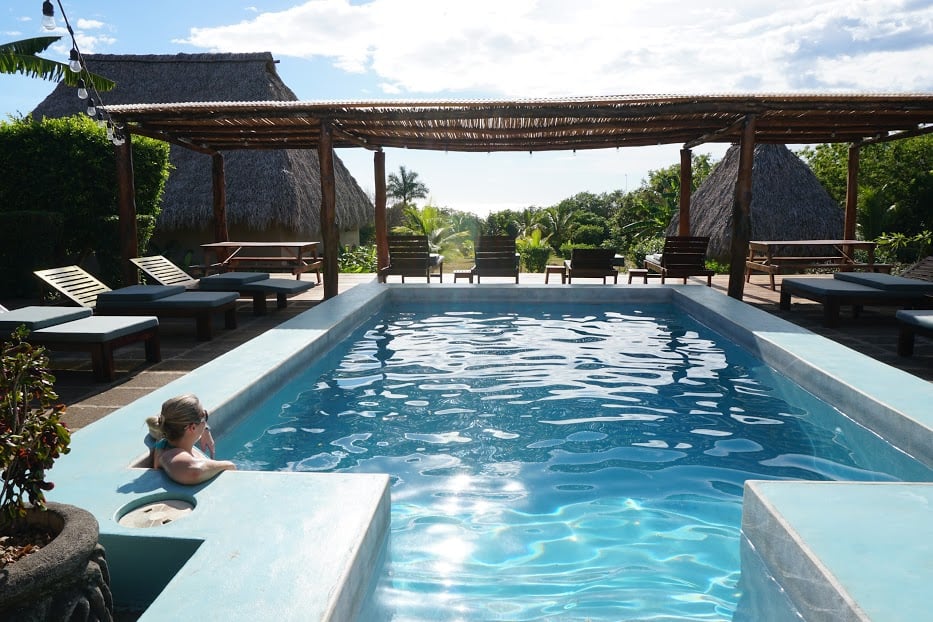 Coco Loco is a magical place that was started by four best friends that were traveling throughout Central America. They fell in love with the area and had a vision to create a simple eco-resort that created a community for people from all over the world. And? They give back to the local community big time!
The eco-resort is compromised of individual sustainable bungalows, a large community space + dining room, a yoga studio, and a killer patio + pool. It was also just short walk across the street to the beach. The owners take turns of being the head of the house and our head of the house was Ben. Ben made sure we were taken care of. He planned our days, our meals, and anytime anyone had an injury (we definitely had a few) Ben took care of it.
Our days were lazy and mindful all at the same time. I have always enjoyed yoga, but this trip really took my love for yoga to another level. After I had gotten over my withdrawals from work, I was able to really be mindful when I hopped onto my mat. By the end of the week, I felt so strong. It was so peaceful, but I was also able to wrestle with some things that my heart just needed to let go. Bah. It was amazing. My Uncle Jeff was one of the yoga instructors along with Randy. Both men know their way around a yoga studio. It makes such a difference to practice with instructors that know the anatomy of the body AND do the BEST adjustments. We did yoga twice a day and had the option for activities in between!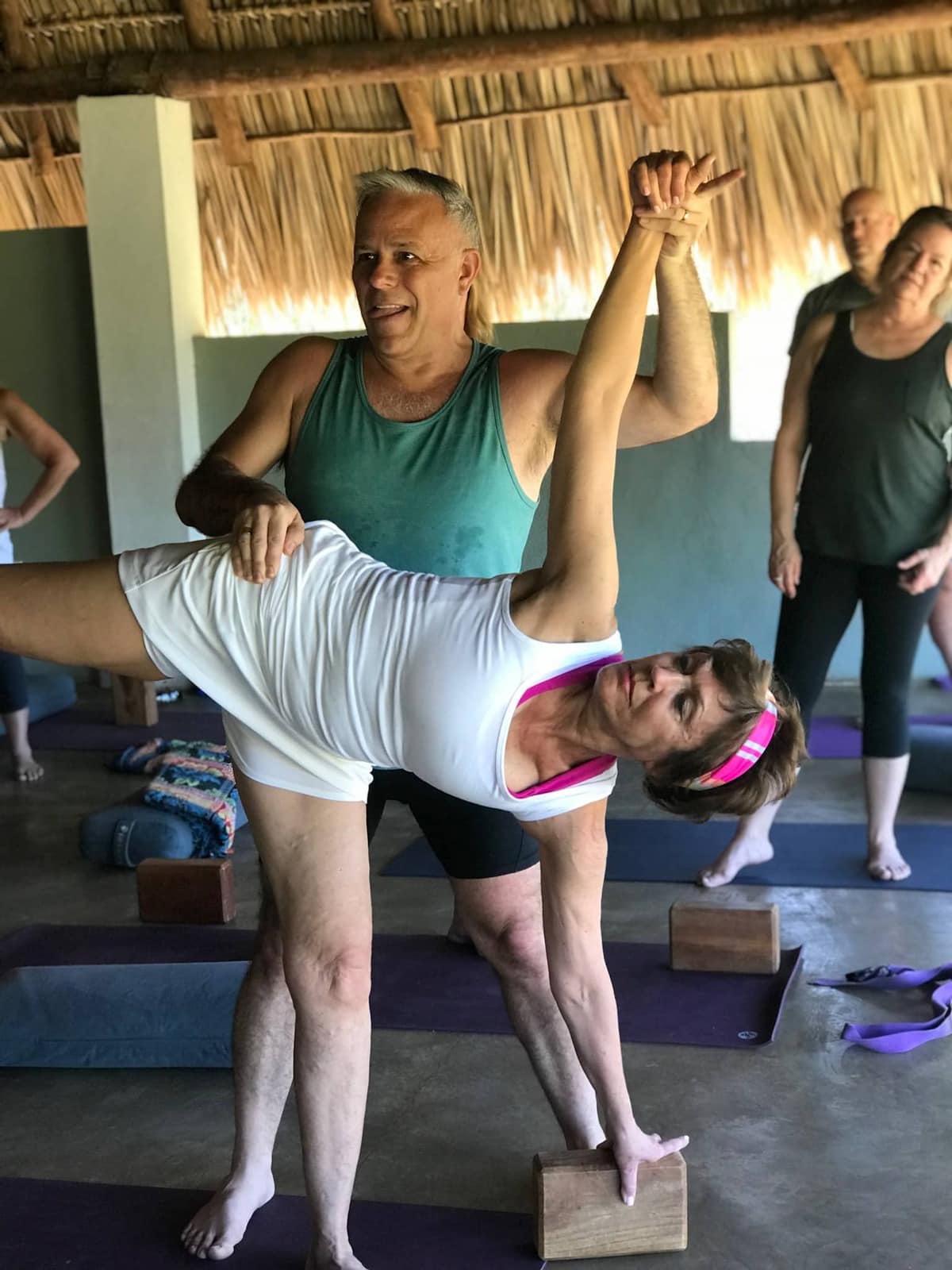 However, a typical day ended up something like this…
Typical Day
First Breakfast of coffee + small bites
2-3 hour morning Vinyasa class
Second breakfast
Lots of Pool time
Lunch
Restorative Yoga
Beach Swim
Cocktails + Dinner
Let me tell you, the food at this resort was right up FFF's alley. It was always healthy, flavor-filled, and delicious! We had spiralized pad thai, energy balls, raw brownies, buddha bowls, and those are only a few of my favorites. We always had fresh juice available to us and if we wanted a beer (which I did), we could have that too!
I tried to participate in as many activities that were offered when we weren't in class! I just wanted to soak up as much as I could. I went surfing, SUP boarding, watched the Superbowl at a local bar, got two massages, went horseback riding, took a chocolate making class, and spent A LOT of time by the pool reading.
Everything about the yoga retreat was an absolute dream (other than some minor stomach issues from using the water to brush my teeth..lol). I have to say my absolute favorite part of the trip was the PEOPLE. There were 20 people in our group that all had some connection to TaraNa. We were strangers at the beginning of the week and by the end of the week, every single person felt like family. I couldn't believe how many interesting, loving, talented, and fun people were a part of our group. It was the early morning yoga and the poolside chats that I will never forget. #peopleofthepool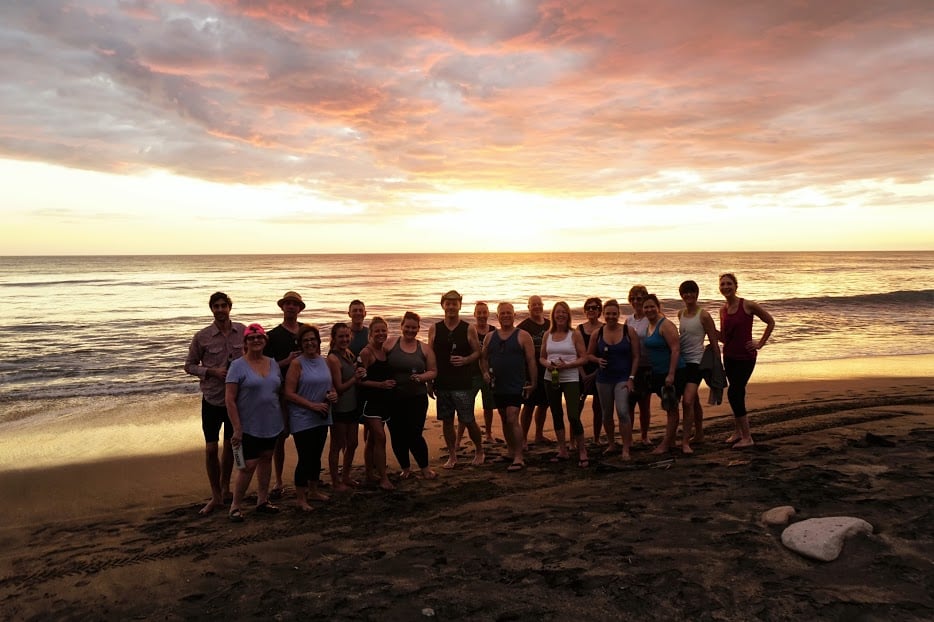 Granada, Nicaragua
Like I said earlier, six of us spent three days prior to the yoga retreat exploring Granada. Granada has so much life, color, and personality! It's colonial streets are a mix of central America meets Spain. We loved every minute.
Where to Stay
If you head to Granada you MUST stay at Hotel con Corazon. It is exactly what it sounds like. A hotel with a heart. Their mission is to help developing countries build a brighter future by investing in education and work. They invest 100% of their profits back into the education system of Granada. Their hope is to be in 10 different countries over the next 10 years. Bomb, right?
You guys, Hotel con Corazon was the cutest boutique hotel. I like to say that Granada is a courtyard city. That means that there are beautiful buildings that are painted beautiful colors, but when you sneak a peek through a doorway you see a magical courtyard. Hotel Corazon was just that. It looks like a simple hotel from the outside but has the most charming courtyard with flowers, hammocks, and an open-air dining area.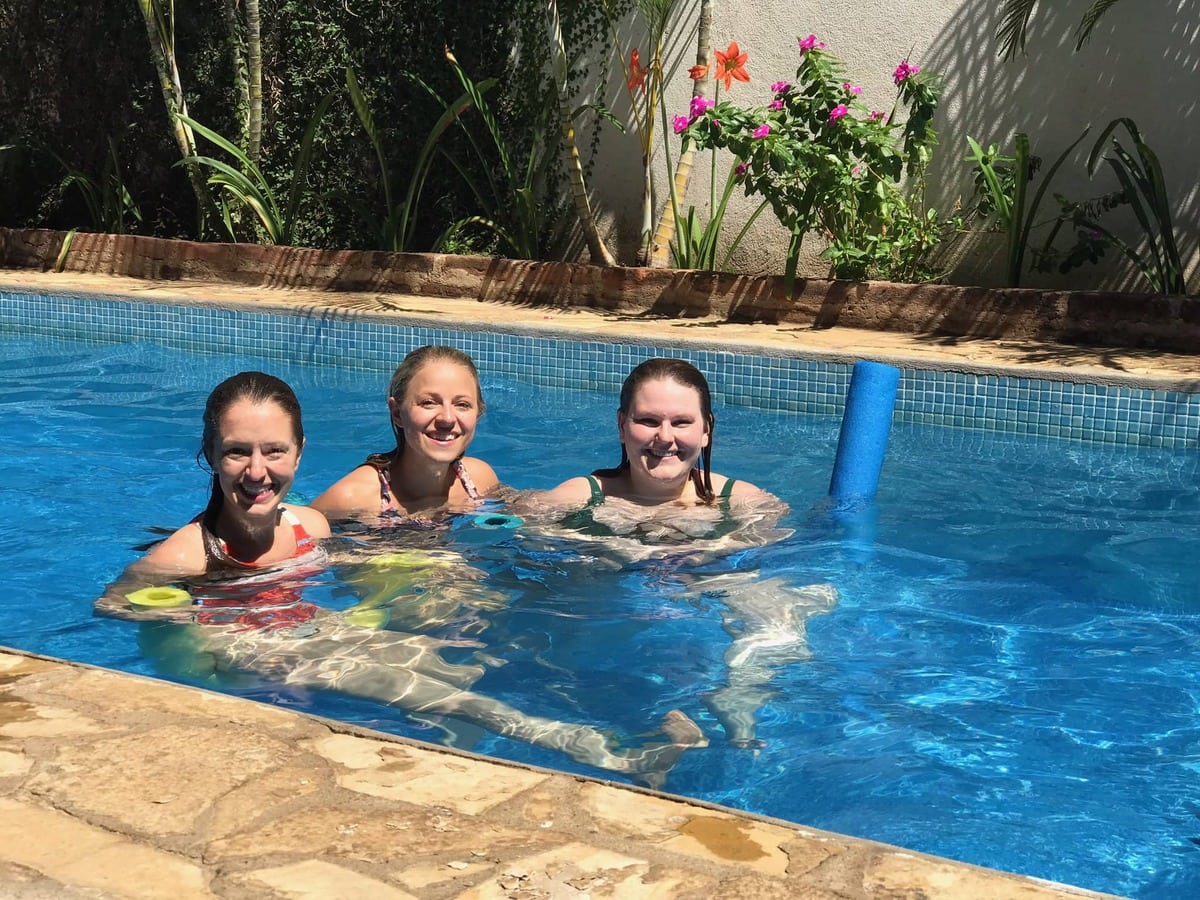 The best part was absolutely the pool area. Who needs an Olympic sized pool? This pool + patio was just what we needed. Lounge chairs (check), sun (check), poolside service (check). Our rooms were simple, clean, and included air conditioning. I loved the simplicity of the space, not to mention all of the staff were so lovely and helpful!
What to Do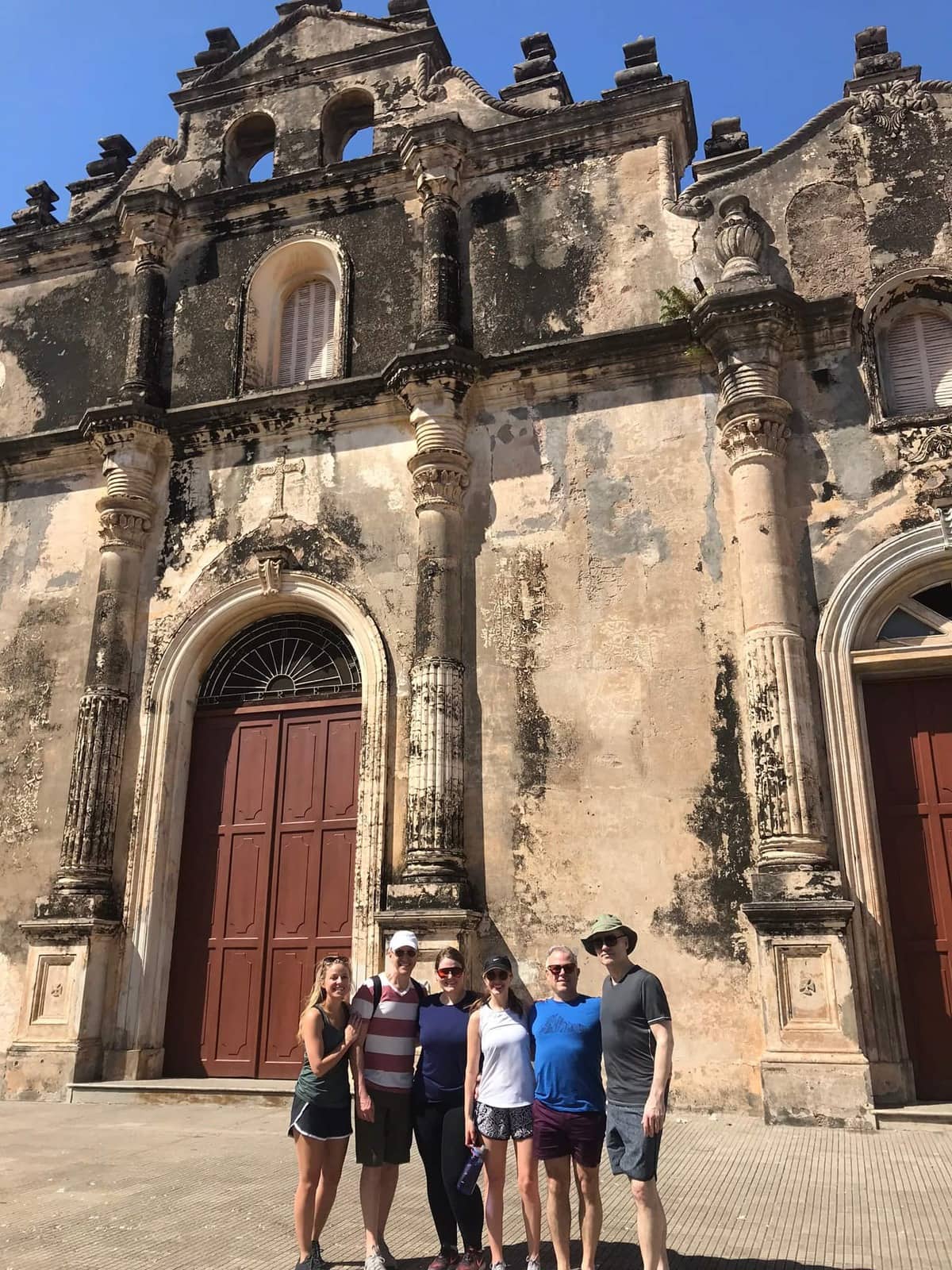 We scheduled everything we did in Granada through Hotel con Corazon. They have a very knowledgeable staff that made every single outing we went on a joy. Since we were only in Granada for three days, we wanted to do a little bit of everything! WE…..
went on a walking city tour our first day. We toured churches, a cigar factory, the local market, and Lake Nicaragua.
checked out a local leather factory!
drove to the top of Mayasa volcano, one of the remaining active volcanos in the area. It was quite cool to see the red-hot lava flowing at night.
hiked Mombacho Volcano on day three. I would recommend the hike if you are looking for a challenge! We did make the whole 5.5-mile hike, but it was an old paved road with no switchbacks (it was hella-steep). When we arrived at the top we hiked around an old crater through a rainforest and saw monkeys and a SLOTH. It was totally worth it. It was a bonding experience that I would definitely do again!
We all had multiple massages at PUR Yoga. They have amazing masseuses that were trained and oh SO good.
Where to Eat
We had some of the best food that we ate right in the hotel. Our rooms included breakfast every morning. Our choice was a Nica Breakfast or a simple breakfast with fruit and granola. Nica breakfast is a classic Nicaraguan breakfast that is always a combination of gallo pinto, eggs, and tortillas or tostones. We had coffee every morning, along with freshly squeezed juice. In the evenings, we would enjoy Hotel con Corozon's happy hour specials where we enjoyed a Toña (a local beer) and some tasty munchies.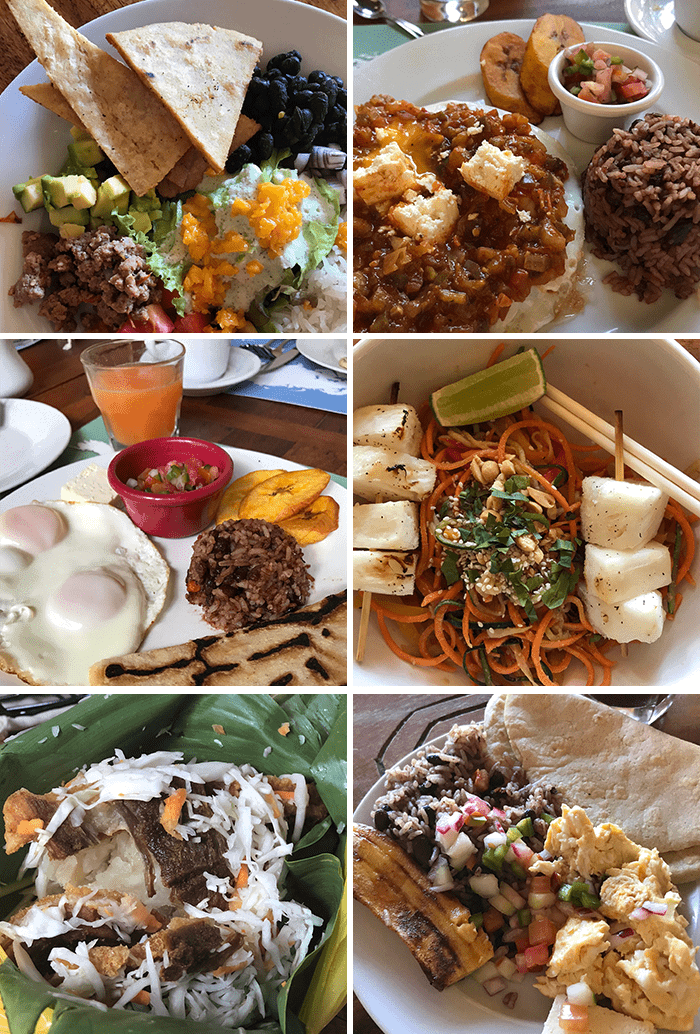 Nicaragua tends to be a mixture of many different cuisines, so we really ventured out to recommendations from the locals!
We ate Vigoron at the local market (which my absolute favorite). It is a mixture of yucca, chicharron, and cabbage that is wrapped in a banana leaf.
The Pita Pita was recommended by multiple locals. It is a Mediterranean fusion restaurant with fresh and delicious SHAREABLE plates (the portion sizes are huge). The baba ganoush was definitely my favorite dish.
The Garden Cafe also came highly recommended. It is a sustainable cafe with a great patio with healthy and delicious food options. It is a great place to read a book and sip an iced coffee!
Miss Dells Kitchen was a new restaurant in Granada. We walked by it multiple times a day and knew we had to try it! The ambiance was right on and the food was very tasty!
La Hacienda Granada was a quirky place with a funny staff! I wouldn't recommend for dinner, but it was a great place for a cocktail!
This was a trip of a lifetime and you bet I will be heading to another TaraNa yoga retreat in the future!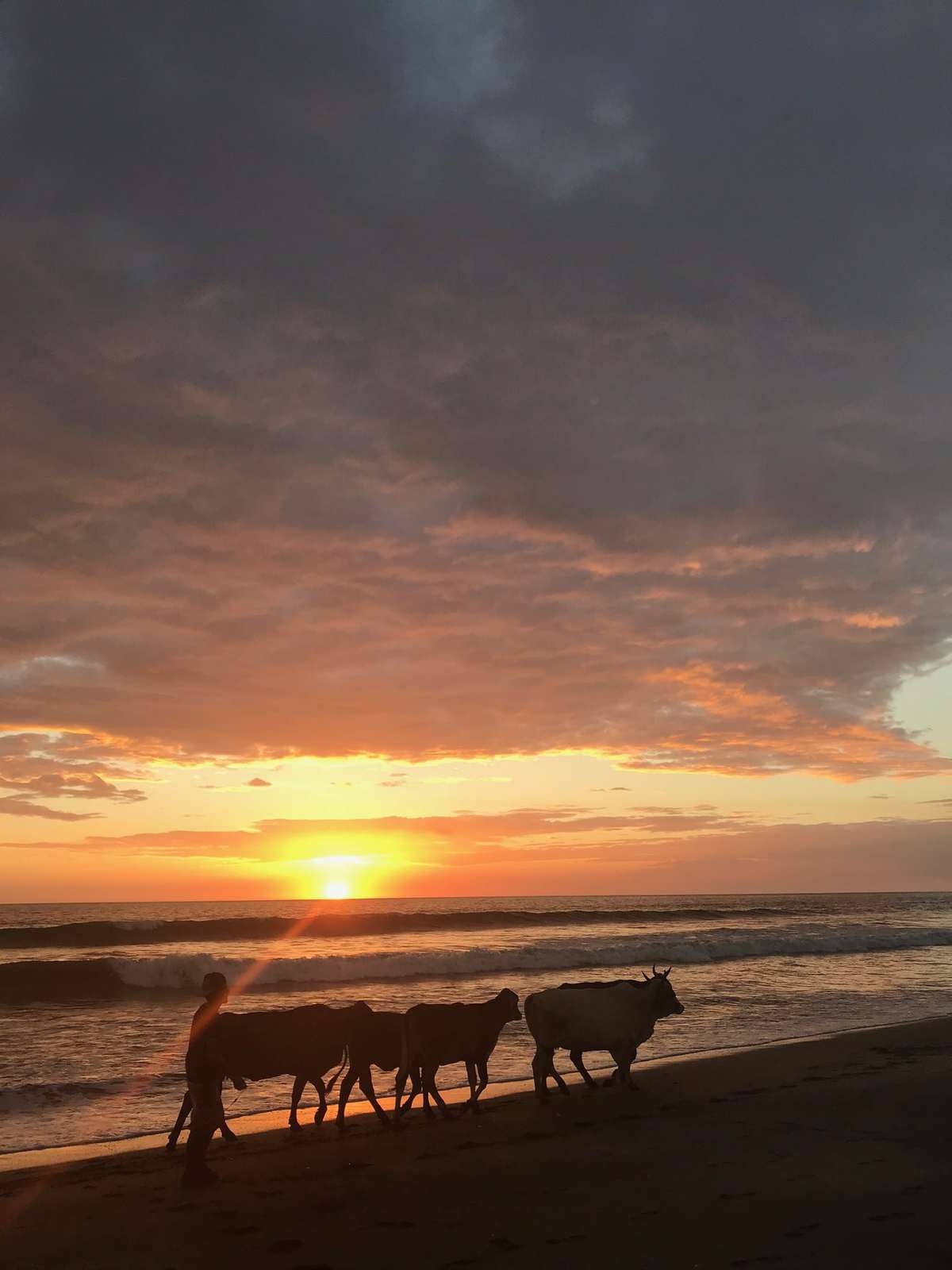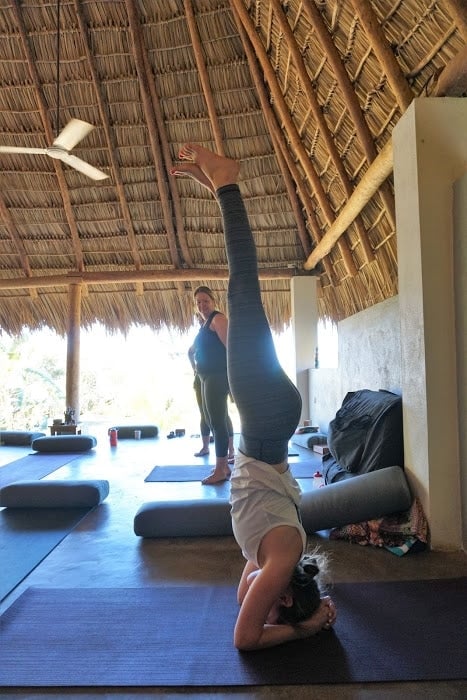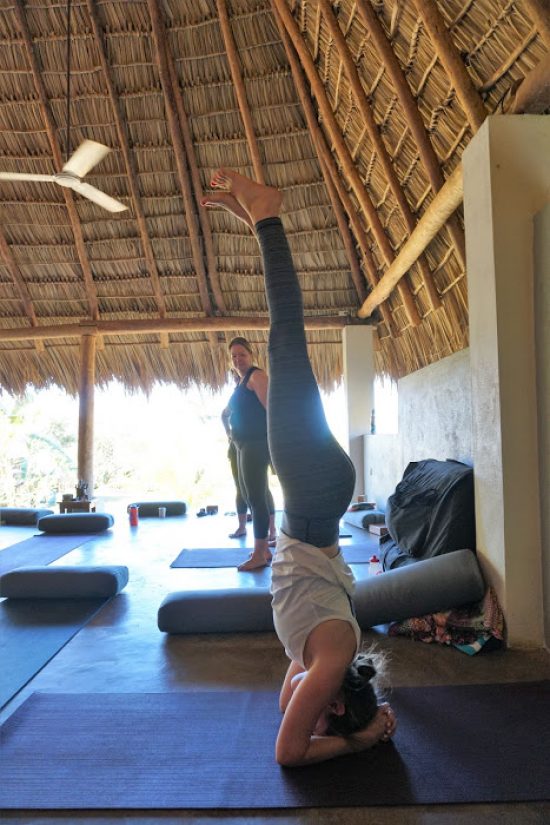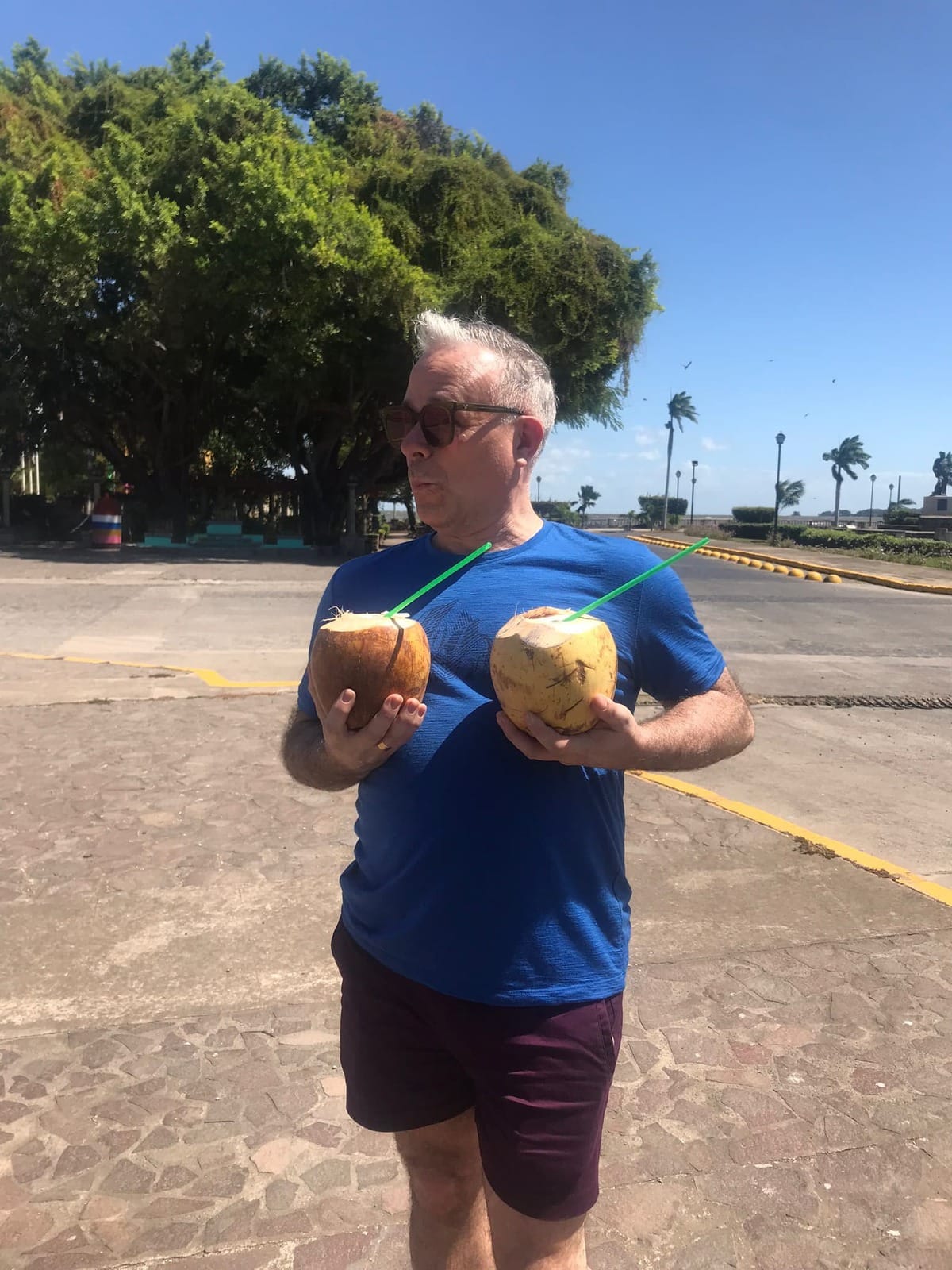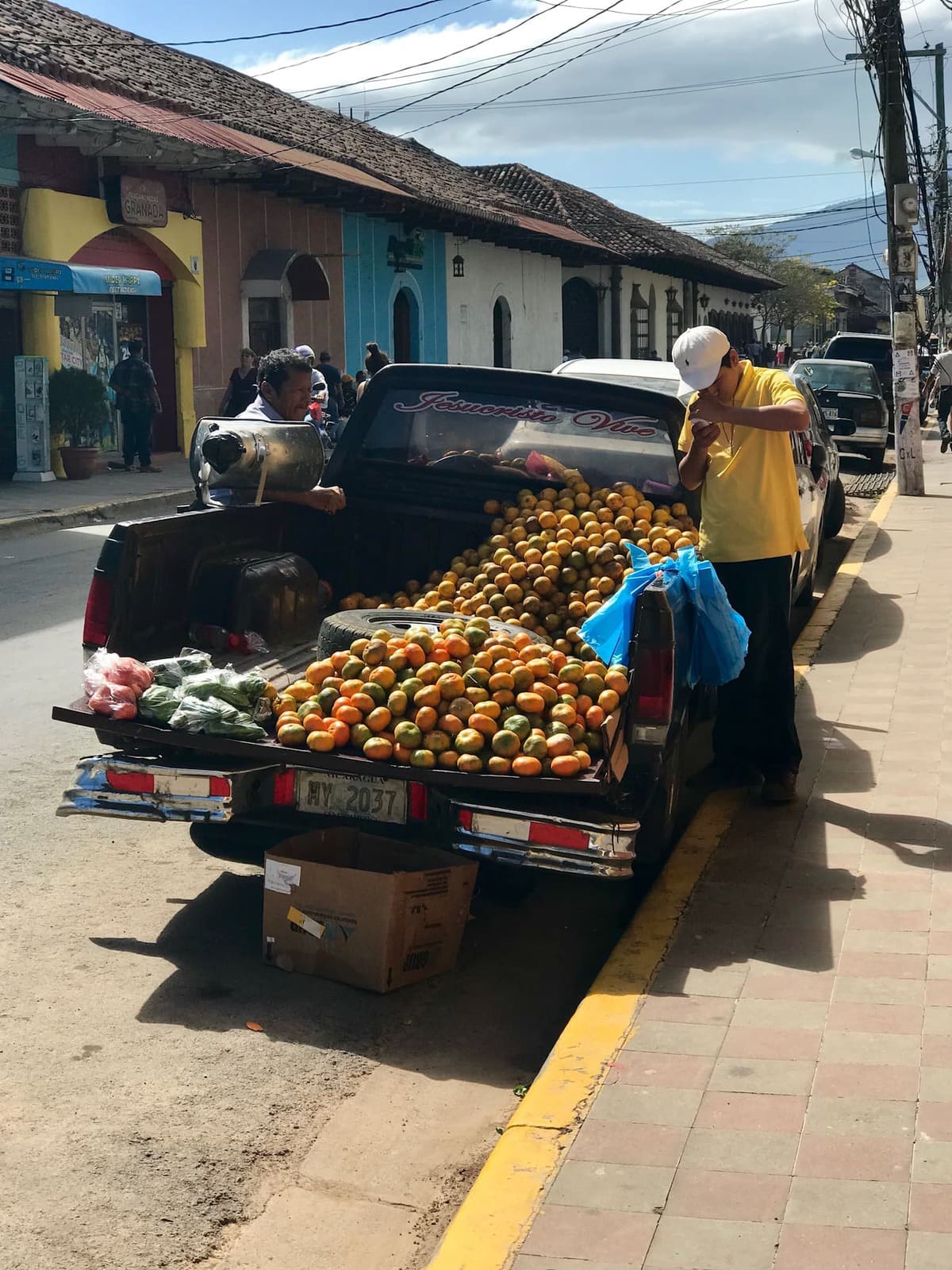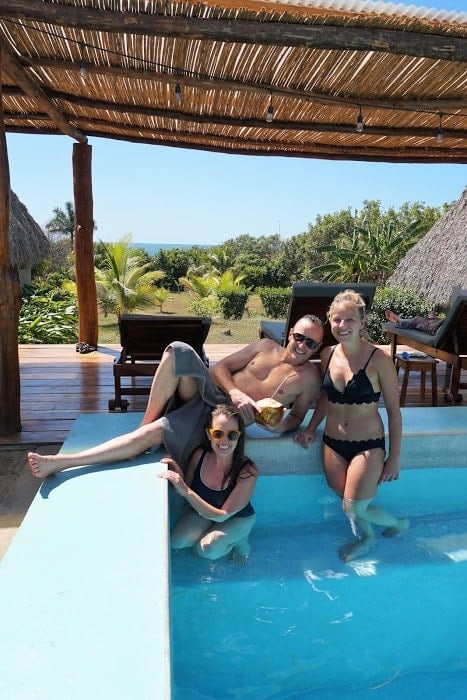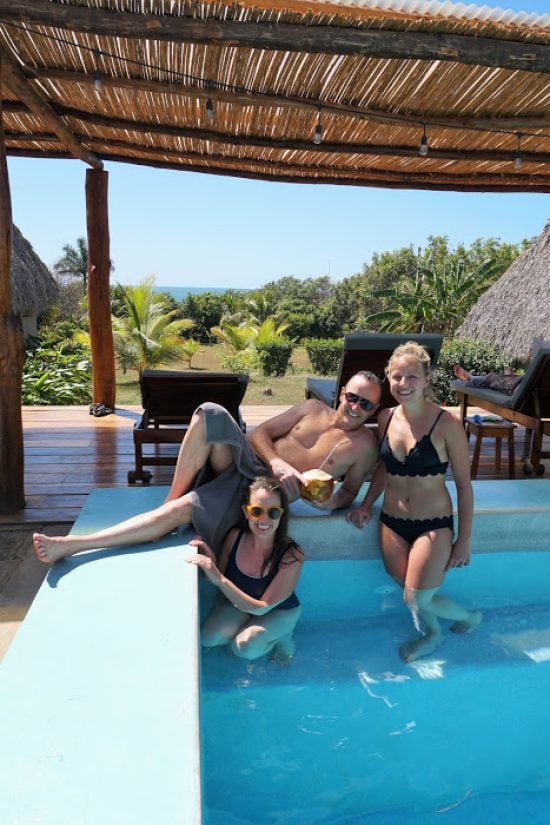 Have any of you ever been on a yoga retreat? Tell me everything!


[ad_2]